Beauty
Woman Asks Oprah For Her Essence Cover Gown And Oprah Delivers
|
By Barry Burch Jr.
Sometimes when you want something all you have to do is just ask.  And when it comes to Oprah, apparently you can just ask her on Twitter.
A woman in Atlanta was ecstatic to discover this to be true.  She literally asked the media mogul for clothes out of her closet and got just that.   Sure, Oprah is known by many for her generosity among other things, but Twitter has never been a part of the story.  There does not seem to be too many platforms that are safe from Oprah's giving spirit.
While Oprah has surprised her fans with awesome gifts like cars, trips and gift bags in the past, she took it to a whole new level in 2014 and actually responded to a Tweet asking for the actual designer dress she wore on a magazine cover, as reported by Straight From The A.  She responded in Oprah fashion too – she delivered.
After seeing Oprah on the cover of Essence Magazine for their March issue, Atlanta resident Brandi fell head over heels in love with the gown she was wearing.  She was so in love with it in fact that she decided to go out on a limb and ask her hero if she could have it.  It's not like the billionaire will wear the dress a second time she joked.  But to Brandi's utter surprise, Oprah responded in agreement.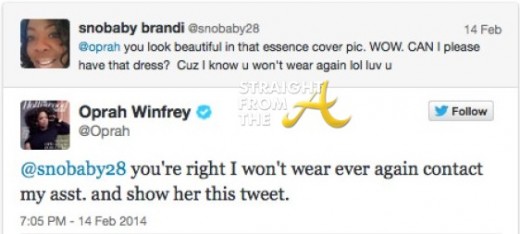 Within days, Brandi's Brian Rennie for Basler gown was delivered to her home; the same one worn by Winfrey on the cover of Essence magazine.   She made a promise to wear it on her wedding day.  All she needs to do now is find a groom, she said.

Brandi made another promise to Tweet a picture of her wearing her nice new gift in the near future.
Barry is an award-winning writer and political scientist.  His business, "Barry Writes," provides biographies, speeches, press releases and so forth to individuals and businesses in need of potent and compelling literature.  Reach him @ Facebook.com/barrywrites and Twitter.com/barryburchjr