Beauty
Right After Having His Mother Killed, Young Man Emptied All of Her Bank Accounts
|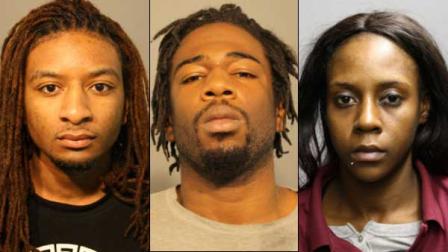 by Barry Burch Jr.
Blood may be thicker than water, but what about money?  For one man from the West Side of Chicago, the answer is "(insert explication here) no."
Qawmane Wilson (far left), 24, made the terrible decision to arrange his mother's murder in order to receive access to her more than $90,000, as reported by Bossip.  Wilson's mother, a popular member of her community owned a beauty salon in Uptown.  According to authorities, between bank accounts and the proceeds from her two life insurance policies, Wilson's mother was going to leave behind approximately $90,000 following her death.
The incident occurred in September of 2012, according to police, and Wilson was charged with murder and home invasion in the unfortunate death of his mother, Yolanda Holmes.  She was 45.
The plan seemed to be somewhat elaborate as Wilson had two accomplices, including a getaway driver.  Eugene Spencer, 22, is said by prosecutors to be the actual hand behind Holmes' killing, and Loriana Johnson, 23, was the driver for Spencer.
Judge Adam Bourgeois, Jr. referred to what the three alleged conspirators did as a "heinous act."  All were held without bail today.
The judge's words are fitting as Holmes, the owner of the Nappy Headzsalon, was killed brutally at 4:15 a.m. Sept. 2, while in her home, according to police.  An autopsy reveals she was stabbed repeatedly and also received a gunshot to the head.
Wilson was arrested on Sunday following a police investigation which concluded he indeed arranged to "have his mother murdered," police said.
According to Assistant State's Attorney Maura White, Wilson liquidated each of his mother's bank accounts that had a collective value of over $90,000.  He did so no more than a week after her death.  He was also the beneficiary of her two life insurance policies.
How's that for motive?
Cell phone records compounded the problem for the alleged conspirators, as phone records show that Wilson made calls to Spencer "before, during and after the murder," said White.  Both of the suspected men confessed to their involvement in the murder plot, she said.
Spencer, who was arrested on Monday, has been charged with first degree murder, home invasion, and aggravated discharge of a firearm.  According to a statement from the Chicago Police Department Office of News Affairs, Spencer shot Holmes.
Johnson, too, was charged with murder and home invasion.  She was arrested on Monday as well.  Police said she drove Spencer to and from the crime scene.
Barry is a scholar, who enjoys writing, arithmetic and politics.  Reach him @ Barryburchjr@gmail.com