News
Rihanna Gets Sued For Allegedly Skipping Out on $150,000 Funeral Bill
|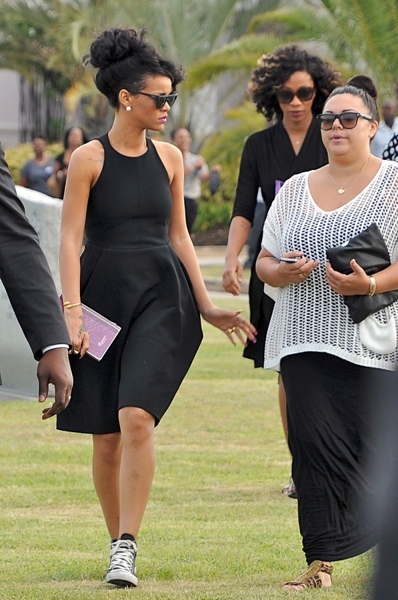 by Barry Burch Jr.
Rihanna's grandmother, Clara Braithwaite, died in June of last year of cancer, and the pop singer made sure that the woman who she so lovingly referred to as GranGranDolly went out in style; well almost – she has yet to pay the bill.
The 25-year old musical sensation is reportedly facing some legal troubles after allegedly bailing on part of the fee for her grandmother's 2012 funeral.  The company which handled the ceremony is suing Rihanna for refusing to pay the full amount of $150,000.
According to a TMZ report, the company was hired by Rihanna to fly her grandmother's body to Barbados, where there was to be a grandiose ceremony held, including tents, multi-media large screens, floral arrangements, and other necessities.  The company claims the extravagant requests called for the extravagant price.  But Rihanna disagreed, and paid only a quarter of the set price saying the amount was too exorbitant.
Just a few days before the funeral, the singer tweeted, "#grangranDOLLY time for your party in Barbados."  She also wrote, "#grangrandolly you are going to have the best party today.  #allblackerrthang! and I'm gon' try to hold it all in, try to hold back my  tears."
Ex-boyfriend, Chris Brown, was not slow to respond after hearing the sad news.  "Praying for family and the lost loved one. She was like my grandmother. Love  you GRAN GRAN! RIP," he wrote.  Brown's mother Joyce Hawkins said, "Angel May God  be with you and your family in your time of sorrow. Love you angel."
Born in Saint Michael, Barbados, Rihanna began her career when she met Evan Rogers, a record producer, through a mutual friend in 2003.  She continued to work with Rogers, traveling the United States, and recording demo tapes until she finally came in contact with Def Jam Records, and then president, rapper Jay-Z, who offered her a contract, which she accepted.  She has received numerous accolades for her musical talents, including six Grammy Awards.